Catering to children and youths on the autism spectrum who are able to access the national curriculum at the primary and secondary levels, St. Andrew's Mission School (SAMS) seeks to prepare our students for life by providing a holistic education that is founded in the mainstream academic curriculum, and enhanced by life and vocational skills training.
To us, every child is treasured. In embracing students with autism, we hope to develop the whole person academically, physically, socially, emotionally and recreationally, while maximising opportunities in sports, arts and other interest areas, so as to ready our students for independent living and work.
At the same time, we understand the importance of developing our students to be integrated members of the community. To that end, we believe in engaging the community, and partnering you, parents in our journey together to impact their learning experience and transform lives.
Our new school has 75 places per cohort, providing for 500 primary and 350 post-primary places at steady state.
Our new school has 75 places per cohort
providing for 500 primary places in future 
350 post-primary places as we grow
The Social Service Agency, St. Andrew's Mission Hospital-Singapore Anglican Community Services (SAMH-SACS) with the Diocese of Singapore responded to the Singapore Ministry of Education to set up a new ASD-NC school, St. Andrew's Mission School (SAMS).  The SAMS has a mainstream school environment that is based on an inclusive pedagogical approach to help instruct children with autism not only in the key life skills and social-emotional skills in order to be self-sufficient and independent but also in the key components of the national curriculum so that each child is enabled to reach his or her  personal excellence and potential. The St Andrew's Mission School will also be a member of the Anglican Schools Education Board. This will facilitate greater collaboration between SAMS and the rest of the Anglican schools.
At the same time, SAMS is also supported by the St. Andrew's Autism School (SAAS), an autism-specific school, with 14 years of experience in educating students with autism. This partnership of the Anglican schools/Education Board and an autism-specific school, SAAS, has twin capabilities in supporting SAMS to deliver the Singapore National Curriculum and in providing educational and support services for students with ASD.

Message from the Principal
Dear Beloved SAMS Family,
I trust this message finds you embraced by positivity and filled with anticipation. Within the heart of St. Andrew's Mission School (SAMS), we cherish the belief that every individual is Uniquely Brilliant, holding a radiant light that is distinctly their own.
Here at SAMS, our shared mission is to collaboratively grow and nurture, guided by the steadfast principles of Love, Integrity, Growth, Honour, and Teamwork (LIGHT). These values serve as a guiding compass, illuminating the path for each child to evolve into the very best version of themselves.
Much like the warmth and support of a close-knit family, the SAMS staff and community stands steadfast in championing every child's educational journey. Through the unwavering dedication of our teachers and staff, together, we assume a pivotal role in leading every member of the SAMS family towards a joyful and purposeful exploration of life's potential.
Aligned with Singapore's Ministry of Education academic standards, we tailor individual growth plans to cater to each student's unique holistic developmental needs. We firmly believe that it is through genuine care, boundless love, and unwavering support, that a student's remarkable potential is brought to full bloom – from character development to future career pursuits. The SAMS family offers this developmental support through autism friendly evidence-based pedagogical and behavioural support strategies.


A verse from the Bible resonates deeply with our mission:
"You are the light of the world…let your light shine before others…"
(Matthew 5:14)

This reminds us that each of us is capable of brightening the world around us, both today and in the days to come. As one family unbroken, we stand as a beacon of love, hope and joy, guiding everyone who embarks on their educational and personal journey at SAMS.
Let us continue this voyage hand-in-hand, heart-to-heart, crafting each day to surpass the last. No one is here by chance as we collectively embody the "light of the world". Together, we will forge a sanctuary where love and learning thrive.
Hearts courageous, scorn defeat! Up and On!
Warmest regards,
Mrs Wong Bin Eng
Principal
St. Andrew's Mission School
Principal: Mrs Wong Bin Eng
The school will start hiring staff as shown in the chart below to provide holistic education and support for our students' learning and growth.
SAMS School Management Commitee
Mr Joseph Liew Yoke Pheng
Dr Arthur Chern
Dr Tay Lai Cheng
Archdeacon Wong Tak Meng
Dr Kao Pao-Tang
Mrs Wong Bin Eng (Principal)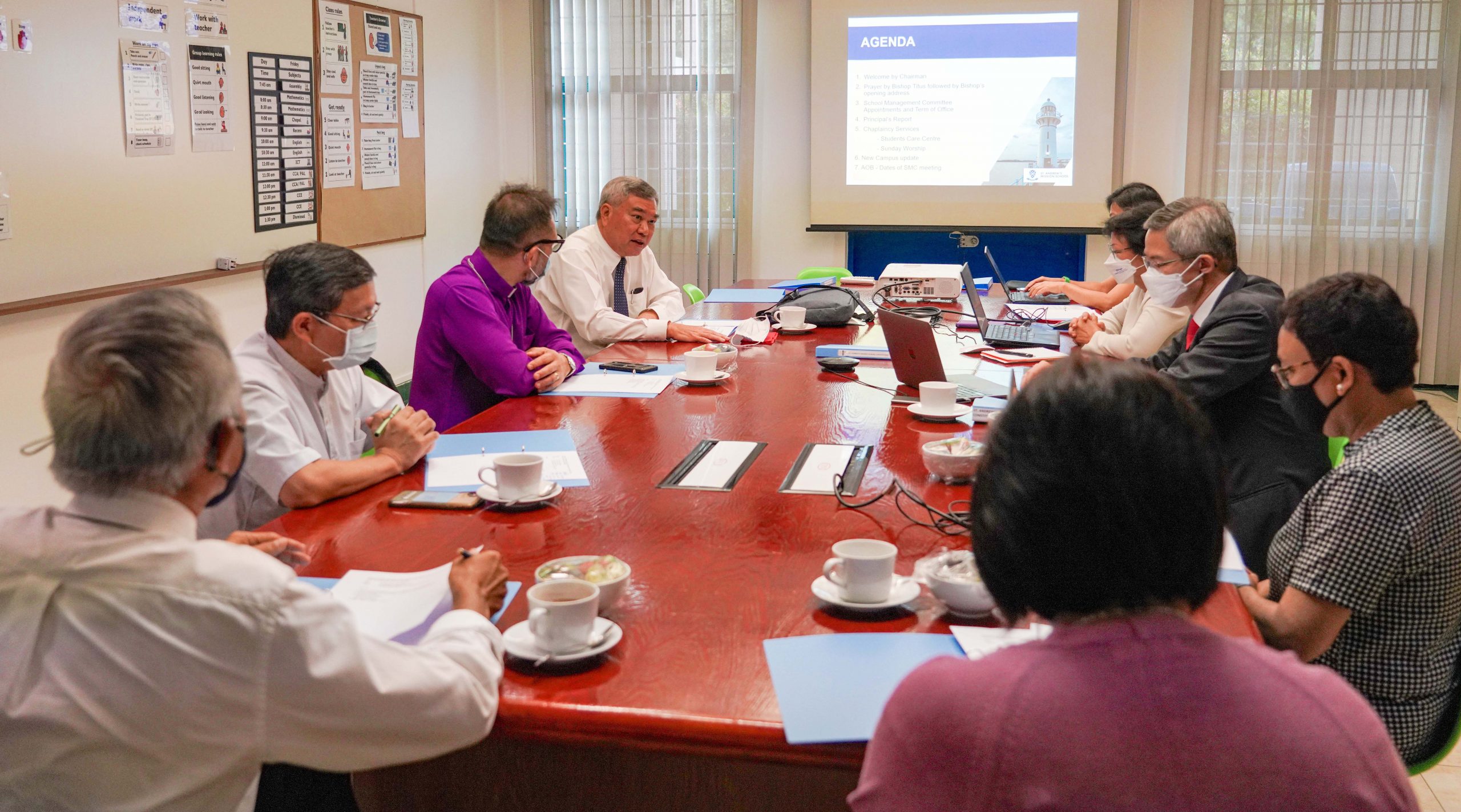 To maximise our students' potential and develop their character to be active members of our society, committed to serve and lead.
Be a light in society, enriching lives with love, hope and joy.                                          
We continuously learn and grow.
We make today better than yesterday.
Hearts courageous scorn defeat!
SAMS School
Values aligns with SAMH Core Values
Our core values define who we are, why we serve, what service we provide and how we serve.  Hence, they guide us in carrying out our Mission to realize our Vision.  We live the SAMS core values, LIGHT.  The table below explains the key traits in these values.
"The light shines in the darkness, and the darkness has not overcome it."
Synergised to serve and grow
Generate Positive Talk
Have Positive Thinking
Share, support and collaborate consistently
Trust one another
Encourage and inspire one another
Be a positive influence
Demonstrate team spirit
Have excellence Mindset
Respect and honour one another
Value one another's contributions
Have strong sense of calling, purpose and meaning
Dedicated
Make positive impacts
Have Growth Mindset
Learn with and from one another
Continue to grow oneself consistently
Commit to share and grow others
Collaborate effectively
Innovate
Behaviours of Parents, Stakeholders and Partners
Generate Positive Talk
Have Positive Thinking
Support and collaborate consistently
Trust one another
Be a positive influence
Demonstrate team spirit
Respect and honour one another
Value one another's contributions
Make positive impacts
Collaborate effectively
Share and grow one another
Demonstrate team spirit
Equip with good social skills
Learn to work well with others
Demonstrate competencies in social-emotional learning
Be committed to contribute consistently
Be a positive influence
Make positive impacts
Care, support and help
Have Growth Mindset
Learn with and from one another
Continue to grow oneself consistently
Commit to share and grow others
Collaborate effectively
Teachers, parents and students synergize to create a positive school environment for learning and growth as they play complementary roles in loving one another, bringing joy and hope. This synergy generated also inspires one another to give clarity, direction, joy and hope as we are one loving family unbroken.
School's Guiding Principles
Every student can learn and achieve personal best
Every staff is caring and skillful.
Every parent is supportive and collaborative.
You are treasured and loved. You learn to treasure and love others and the environment.
Take care
of the environment
Lives are in the making here,
Hearts are in the waking here,
Mighty undertaking here,
Up and On! 
We are arming for the fight,
Pressing on with all our might,
Pluming wings for higher flight,
Up and On! 

(CHORUS)
Up Saints! Truest fame
Lies in high endeavour;
Play the game! Keep the flame
Burning brightly ever!
Fair before us lies the way,
Time for work and time for play;
Fill the measure while we may,
Up and On! 
Life and time will not delay,
Time is running fast away,
Life is now today; today;
Up and On! 

(CHORUS)
Foes in plenty we shall meet,
Hearts courageous scorn defeat;
So we press with eager feet,
Up and On! 
Ever onward to the fight,
Ever upward to the Light,
Ever true to GOD and RIGHT,
Up and On!

(CHORUS)
Our Father, by whose servants,
Our School was built of old,
Whose hand has crowned Thy children,
With blessings manifold;
For Thy unfailing mercies,
Far strewn along our way,
With all who passed before us,
We praise Thy name today.
They reaped not where they laboured,
We reap what they have sown;
Our harvest may be garnered,
By ages yet unknown.
The days of old have dowered us
With gifts beyond all praise,
Our Father make us faithful
To serve the coming days.
Before us and beside us,
Still holden by Thy hand,
A cloud of unseen witness,
Our elder comrades stand;
One family unbroken,
We join in one acclaim;
One heart, one voice uplifting
To glorify Thy name.
Facilities at Interim School Site
With the support of MOE we are sprucing up the interim school site to provide facilities, as shown in the chart for the following:
Teaching and learning
Co-curricular activities
Collaboration with Partners
Collaboration amongst Staff
Other rooms.
SAMS will be housed in the to-be-vacated site of Yusof Ishak Secondary School (YISS), located at 11 Bukit Batok Street 25, when we open its doors to welcome our first batch of students in 2022.
The new school's permanent site at Clementi is slated to be ready in 2031. Designing and building plan with standard and non-standard facilities are in progress.
The interim site at YISS will be renovated to create a conducive learning environment for our students with special needs, and retrofitted with specialised facilities for autism.
School Hours
For P1 students: